Introduction of Gold Shaking Table:
Shaking table separation is the most widely used and the most effective separation equipment in the gravity concentrator. As an independent beneficiation method to use, gold shaking table also can be combined with other beneficiation methods such as flotation and magnetic separation or other beneficiation equipment such as centrifugal separator, spiral concentrator, belt chute, etc.
Nowadays gold shaking table has been widely used in the beneficiation of rare metals and precious metal ores, such as tungsten, tin, quintal and ingot-shaped tablet, moreover, gold concentrator table is also available for iron and manganese ore and the beneficiation of nonferrous metals before flotation separation. According to some statistics, about 30%-80% ore concentrate is screened by shaking table. The feed particle size of tungsten and tin is 2-0.037mm and the minimum feed particle size of sludge shaking table is 0.019mm. In the production practice, combined with other equipment, the shaking table for gold is used in the recycling of fine mineral with 37 micrometers.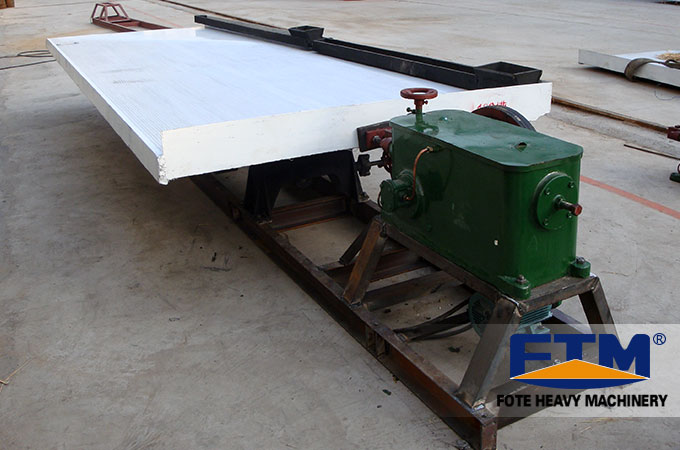 Advantages of Shaking Table Beneficiation
1. The maximum beneficiation concentration ratio can attain more than 300 times;
2. Final concentrate and discarded tailing can be obtained through one time separation;
3. Multiple products can be gained at one time according to your needs;
4. Obvious mineral zoning in the table surface contributes to the convenient adjustment, observation and receive.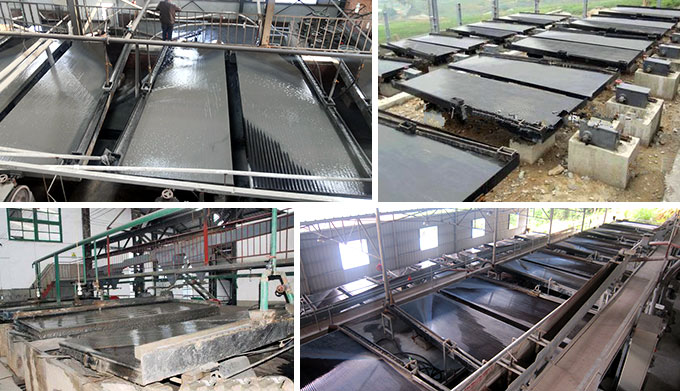 Main weaknesses of the gold concentrator table are relatively lower handling ability unit area and big factory area. The maximum handling ability of coarse sand is no more than 5 tons one hour of per square meter table surface; only about 0.5ton minuteness mud per hour is available. Do you want to know shaker table for gold price? Please no hesitate to choose Fote machinery.